The Prime Brokerage Race, Goldman Sachs Bashes Bitcoin: Ryze Recap 5/28
The biggest news in Bitcoin in 2 mins or less, presented by Ryze.
Happy Thursday! We're starting Ryze Recaps to keep our users— and Bitcoiners around the world, in the loop with everything Bitcoin. Expect an email every morning Monday-Friday with a 2 minute summary of the previous day's Bitcoin news.
If you're not a fan, feel free to unsubscribe, but please reply to this email and let us know why.
1. The Prime Brokerage Race
Major players in the Bitcoin ecosystem are vying to become the first prime brokerage for digital assets.
The basics:
In stock markets, prime brokers are firms that offer packaged financial services to institutions such as hedge funds and wealth managers.
For Bitcoin, these services including custody, liquidity, and settlement, have thus far been offered by separate firms, fragmenting the ecosystem. Many believe that a prime brokerage combining these services is necessary for institutional players on Wall Street to start investing in Bitcoin.
What's happening now:
Coinbase is acquiring Tagomi, a liquidity provider that routes trades to several exchanges, for between $75M-$100M in stock. Tagomi will help Coinbase expand its offering to institutional investors, Coinbase Prime. Coinbase already offers institutional custody and is one step closer to being Bitcoin's first prime brokerage as it expands its liquidity services through Tagomi.

BitGo is launching BitGo Prime, which will allow institutions to trade while keeping their assets in insured, cold-storage custody. The custody behemoth claims that 20% of Bitcoin transactions are performed using BitGo wallets, and BitGo Prime is its first foray into liquidity.
2. Goldman Sachs Bashes Bitcoin
In a report released before an investor call, Goldman Sachs stated that Bitcoin and other cryptocurrencies "are not an asset class."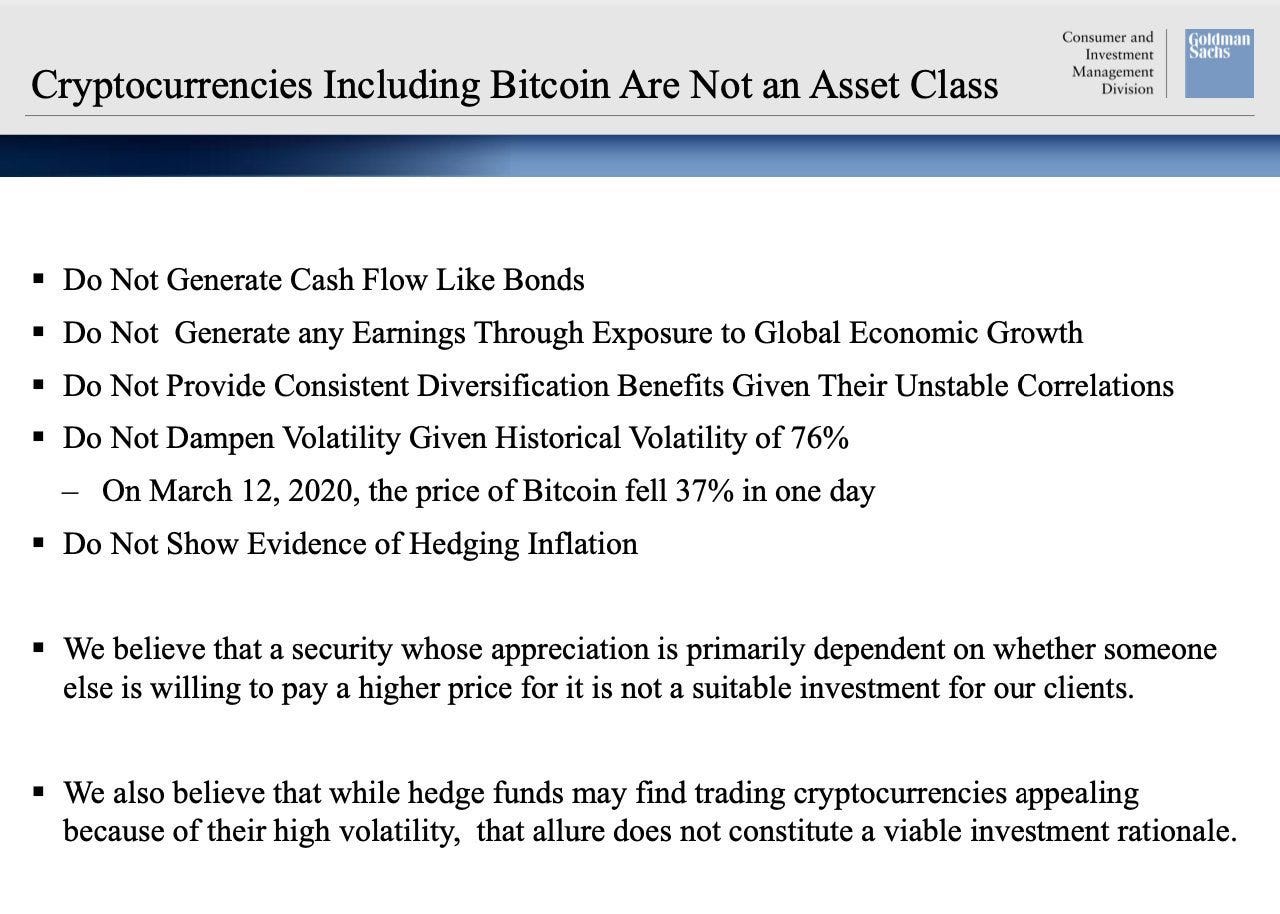 The banking behemoth also cited concerns of Bitcoin's use for money-laundering throughout the report. Twitter commentators were swift and decisive with their response:
It's worth noting that Goldman's points don't hold up very well:
Many assets Goldman holds, and recommends for its clients, don't generate cash flows.

All markets are facing increased volatility, not just Bitcoin. Plenty of "traditional" investments have lost significant value in the last 6 months.

Bitcoin is a deflationary asset because of Halvings and currently has a lower inflation rate than gold.
That's all for today! Keep an eye out for tomorrow's Ryze Recap.
---
Created by
Ryze Financial
— helping you understand and invest in Bitcoin, on your own terms.