Ryze Weekend Recap: How Rainstorms in China Could Be Affecting Bitcoin's Price
It's Sunday, September 6th. If you're new here— Ryze Recaps is a newsletter synthesizing the biggest news Bitcoiners need to know.
We've got a bit of light Sunday reading for you today.
How Rainstorms in China Could Be Affecting Bitcoin's Price
The monsoon season, from June to October, plays a vital role in the production of food for hundreds of millions, if not billions, of people worldwide. Monsoons, however, can also cause floods and wreak havoc on communities, as we're seeing this year, particularly in the Sichuan region of southwest China. So far, 70 million people have been affected by this year's monsoons, costing China a record $29 Billion to date.
The torrential downpours are causing excessive flooding, and some hydroelectric power plants are being shut down to discharge floodwaters. This has an often-overlooked consequence in the Bitcoin ecosystem, as the Sichaun region is estimated to have a significant chunk of the Bitcoin network's total computing power.
Some of the biggest mining pools in the world, such as Poolin, Slush Pool, and HaoBTC, have all been negatively affected by this year's rainstorms as miners have had to unplug in response to decreased electricity flowing from hydroelectric power plants operating at low to zero capacity.
Kevin Pan, CEO of Poolin, stated in a Weibo post:
"The flood peaks crossed the border and the [electricity] was cut off (even water and gas, etc.), and the [miners were] passively shut down…Some [mining farms] actively suspended operations for the sake of personnel safe, complete the evacuation ahead of schedule."
This is further evidenced by a decrease in hashrate in some of the top mining pools: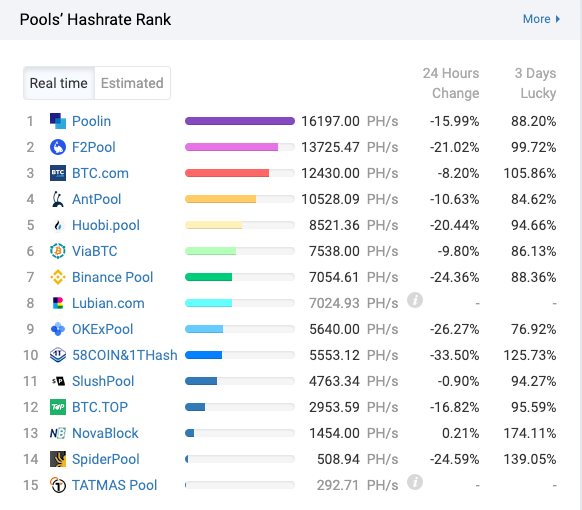 But what does this have to do with Bitcoin's price?
When mining farms are shut down, they can't mine crypto-assets and thus they lose their revenue. When miners lose revenue, they're forced to sell off crypto that they've accumulated to continue paying expenses, such as property leases.
This can be shown by the increase in miner outflows to exchanges:

Three of the largest mining pools in China saw huge spikes in outflows (red columns in the charts) last week prior to Bitcoin's dip. This means that they transferred Bitcoin out of their wallets and onto exchanges to sell.
It is probable that Chinese hydroelectric plants shutting down in response to heavy flooding caused Bitcoin miners to shut down, and they subsequently had to transfer some of their reserves to exchanges and sold in order to maintain their cash flows. As they sold, Bitcoin's price dropped. Keep in mind, this is just one narrative explaining Bitcoin's recent correction, and there are many other factors to consider.
We'll be watching closely to see how this plays out, and in the meantime, we hope you bought the dip #BTFD.
Are you here from Reddit? Subscribe below to get Ryze Recaps in your inbox 👽
In case you missed it
The Biggest Trading Firm You've Never Heard of Betting Big on Crypto
Jump Trading, one of the world's most active and most secretive trading firms, has partnered with the fastest-growing crypto exchange, FTX, in their new project: Serum, a non-custodial, decentralized exchange touted to compete with centralized exchanges in terms of speed and liquidity. Jump Trading, which reportedly accounts for up to 5% of US stock volume, will be providing liquidity to Serum and has made a significant investment in the project. Jump already provides liquidity to some of the most popular crypto exchanges including BitMEX, Bitfinex, and Robinhood Crypto. Serum is Jump's first foray into DeFi and decentralized trading. More in Friday's Ryze Recap.
Was this newsletter forwarded to you? Sign up below for a 2-minute recap of the biggest news in Bitcoin 👇🏽
That's all for today! Enjoy the rest of your Labor Day Weekend. We'll be back again with another Ryze Recap.
Written by 

Ryze

— we help you stack sats and buy the dip, automatically. #BTFD