Discover more from Ryze
Bitcoin-centric news, research, and analysis
Ryze Recap 8/4: Bitcoin Bulls Holding Strong After Flash Crash
Plus, Binance wants to launch a US Futures platform
It's Tuesday, August 4th. If you're new here— Ryze Recaps is a newsletter synthesizing the biggest news Bitcoiners need to know, in 2 minutes or less.
We've got two quick stories for you today.
Bitcoin Bulls Holding Strong After Flash Crash
On Saturday, Bitcoin's price fell by nearly $1400 from ~$12,100 down to ~$10,700 in less than 10 minutes. At the time of writing, Bitcoin has recovered to $11,286, up nearly 60% this year. This event, known as a "flash crash," is reminiscent of the volatility that we experienced back in 2017- 2018. However, data from Glassnode shows that investor confidence in Bitcoin has been relatively unaffected by the sudden price drop.
By the numbers:
Net outflows from exchanges increased 10x on Sunday to 4,264 Bitcoin.

Aggregated open interest (total value of open positions) across all Bitcoin futures markets reached $5.57 Billion on Saturday, surpassing the previous all-time high of $5.37 Billion

Almost $1.4 Billion in futures positions were liquidated across all Bitcoin markets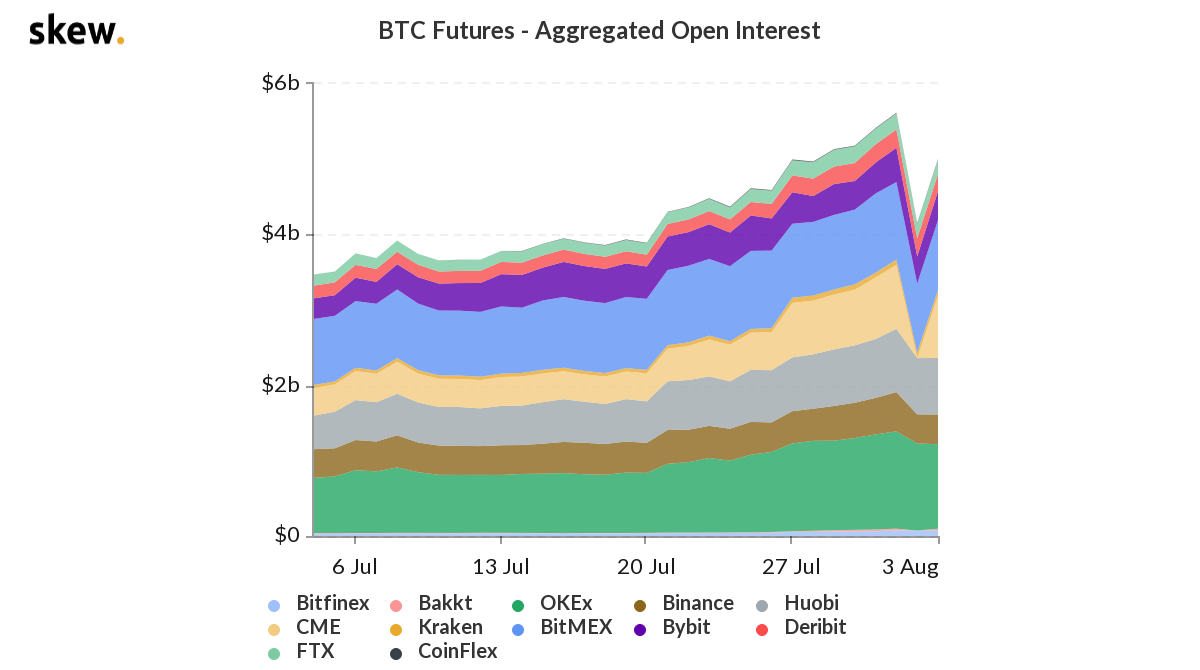 Why it matters:
Investors move money out of exchanges when they expect a price rally and move money into exchanges when they are looking to liquidate their positions. The spike in net outflows indicates that despite the flash crash, investors still have a bullish outlook and are expecting this year's rally to continue.

Futures markets have an increasingly important role in the Bitcoin ecosystem as a whole. Many point to a chain of long position liquidations on futures exchanges as the reason for Saturday's exaggerated dip. Until recently, futures trading was exclusive to offshore, unregulated platforms such as BitMEX. Now, regulated Bitcoin futures products through the CME and Bakkt have led to a rise in institutional futures trading. Fidelity reports that 22% of US financial institutions have exposure to Bitcoin via futures contracts, more than double last year's 9%.
Was this newsletter forwarded to you? Sign up below for a 2-minute recap of the biggest news in Bitcoin 👇🏽
Binance Eyes US Futures Launch
According to The Block, Binance is rumored to launch futures in the US this year, possibly by acquiring a licensed company to ease the regulatory burden. Binance is the largest exchange in the world by volume, but lost its foothold in the US after shutting US customers out from its main exchange in June 2019. Binance subsequently launched Binance US to comply with regulations.
However, Binance US comprises only 0.02% of crypto trading volume in the last year. Rival Coinbase Pro had 25x as much. Launching futures catering towards a booming US institutional market is a way for Binance to regain some market share in the US.
That's all for today! We'll be back again with another Ryze Recap.
Subscribe below for Bitcoin news and analysis, straight to your inbox 📥
---
Written by 

Ryze

— we help you stack sats and buy the dip, automatically. #BTFD