Ryze Recap 8/24: Turkish Currency Collapse Leads to Record Bitcoin Volume
Plus, Institutions are Bearish on the Dollar
It's Monday, August 24th. If you're new here— Ryze Recaps is a newsletter synthesizing the biggest news Bitcoiners need to know.
We've got one main story to kick off your week.
Turkey Sees Record Bitcoin Volume Amidst Looming Currency Collapse
BTCTurk, one of the largest Bitcoin exchanges in Turkey, has had nearly 1 million signups this year and roughly 100k monthly active users. Volumes on BTCTurk have quadrupled over the last year as the state-backed currency, the Turkish Lira, has been in the doldrums.
Analyst Shuai Hao found a correlation between Lira-related news and volume surges on BTCTurk: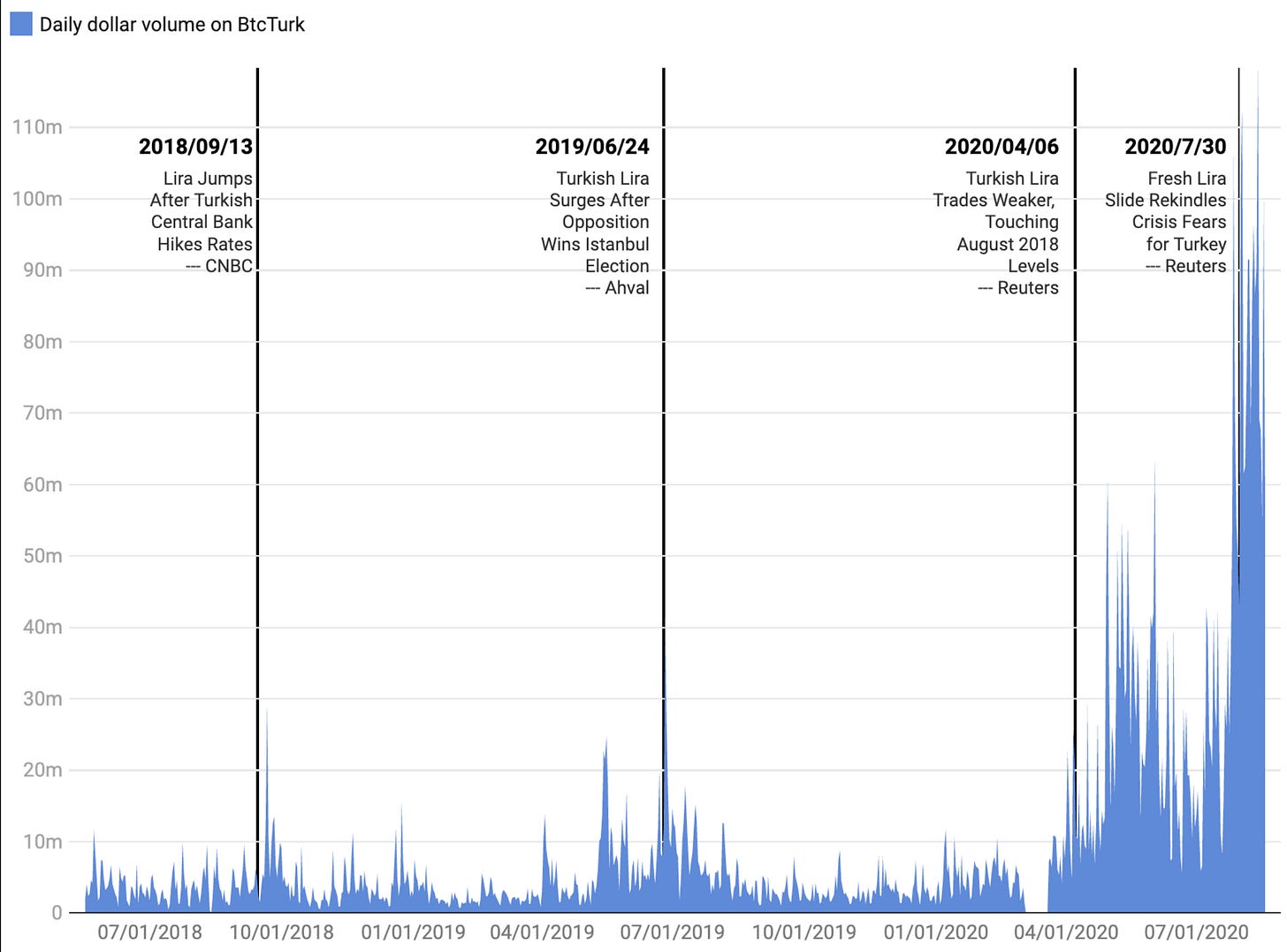 From September 2018 to June 2019, the Lira was strengthening in response to central bank actions, and volumes on BTCTurk increased steadily, with a few spikes here and there. This trend reversed as the pandemic brought about fears of another currency crisis with the Lira. As the Lira weakened, volumes on BTCTurk spiked to over 10x the levels seen in September 2018.
Now, the Lira is reaching lows that haven't been seen since it faced collapse in 2014 and 2018. Back then, authoritarian leader President Erdogan willed a recovery into existence through aggressive lending programs. This time around, analysts warn that the Turkish central bank is running out of reserves to prop up the Lira's value, claiming that it's "only one shock away from a crisis."
Are you here from Reddit? Subscribe below to get Ryze Recaps in your inbox 👽
Why it matters:
Turkish citizens are waking up to the value of Bitcoin as a currency outside the grips of its government. Companies such as BTCTurk are using mass media and mainstream cultural institutions to spread awareness about Bitcoin. BTCTurk has even become one of the main sponsors of Turkey's national football/soccer team as part of this awareness campaign.

Turkey isn't the only country in a currency crisis as a result of the pandemic. Recently, Lebanon's currency faced a monthly inflation rate of 56% and has effectively collapsed, joining the Venezualan Bolivar on a list of dozens of failed modern currencies. Citizens burned Lebanon's central bank in response, and are now using the Dollar and Bitcoin to conduct transactions.

Towards the start of this pandemic, we predicted that ineffective central banks in developing nations would lead to currency collapses. We hypothesized that wealth in these countries would eventually find its way into the Dollar and Bitcoin, which seems to be what's happening. In both Lebanon and Turkey, we're seeing a growing black market for US Dollars. Yet, these countries are wary of relying on the Dollar and interlinking their economies to America's stability, making Bitcoin a more attractive option. The biggest barrier to Bitcoin adoption in these countries is education. In places like Venezuela, over 20,000 businesses accept Bitcoin. Soon, we may see countries like Turkey and Lebanon follow the same path.
Was this newsletter forwarded to you? Sign up below for a 2-minute recap of the biggest news in Bitcoin 👇🏽
In case you missed it:
I

nstitutions Turn Bearish on the Dollar
Bloomberg reports that for the first time since 2018, hedge funds and other institutions have become bearish on the US Dollar. More and more bets against the dollar are being taken out through futures and options contracts, as bullish bets on the Euro are increasing. This comes after the Federal Reserve as announced unlimited quantitative easing in response to the crippled pandemic economy. The US Dollar index has fallen over 7% since highs in March. A stalemate in Congressional stimulus negotiations certainly isn't helping the case, according to analysts at Barclays and Deutsche Bank.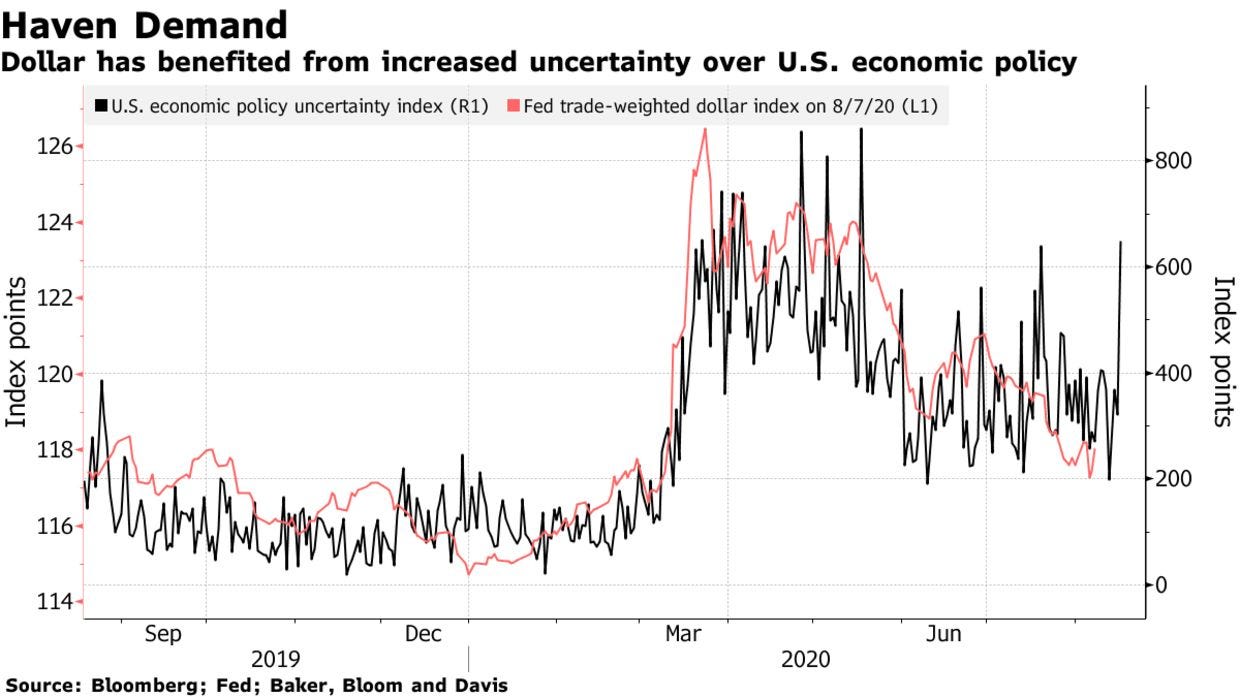 Iranian Power Plants to Mine Bitcoin
Iran has made major strides towards the cultivation of a strong Bitcoin mining ecosystem in 2020. Earlier this year, Iran issued over 1,000 permits to firms mining Bitcoin, with the intent of regulating its burgeoning mining industry. Cheap, state-subsidized electricity costs make Iran a lucrative place for miners. Now, the head of the state-backed power company has announced that power plants in the country will be permitted to mine Bitcoin. Iran's government has encouraged the use of Bitcoin and other crypto-assets to subvert sanctions imposed by the US. It views cryptocurrencies as a way to challenge and overcome a global financial and economic regime dominated by the US.
By The Numbers
BlockFi raised a $50M Series C at a $400M valuation. BlockFi is a lending firm that helps users earn interest on their crypto. Other firms, including Coinbase and Blockchain.com, are also entering the lending space to enable users to earn interest on their crypto-assets.
Pantera Capital has raised $165M for its third venture fund, $60M more than its filing last year and double its initial filing, from almost 200 investors. Pantera is one of the most notable funds in the industry, investing in everything from privacy-focused crypto-asset ZCash to institutional Bitcoin futures exchange Bakkt.

Mining hashrate from China has dropped 15% amid heavy rainstorms. The Sichuan province of China, which is known in the crypto community for its abundance of Bitcoin mining operations, is facing some of the worst rainstorms in recent history. As a result, widespread electricity outages are forcing some mining firms to pause operations and even evacuate on-site staff.
Subscribe below for Bitcoin news and analysis, straight to your inbox 📥
Top Tweets
That's all for today! Have a great Monday and we'll be back again with another Ryze Recap.
Written by 

Ryze

— we help you stack sats and buy the dip, automatically. #BTFD